If you want to decorate bakery-worthy cakes at home that taste as good as they look and get help growing your skills from newbie to professional, then I have the perfect masterclass for you!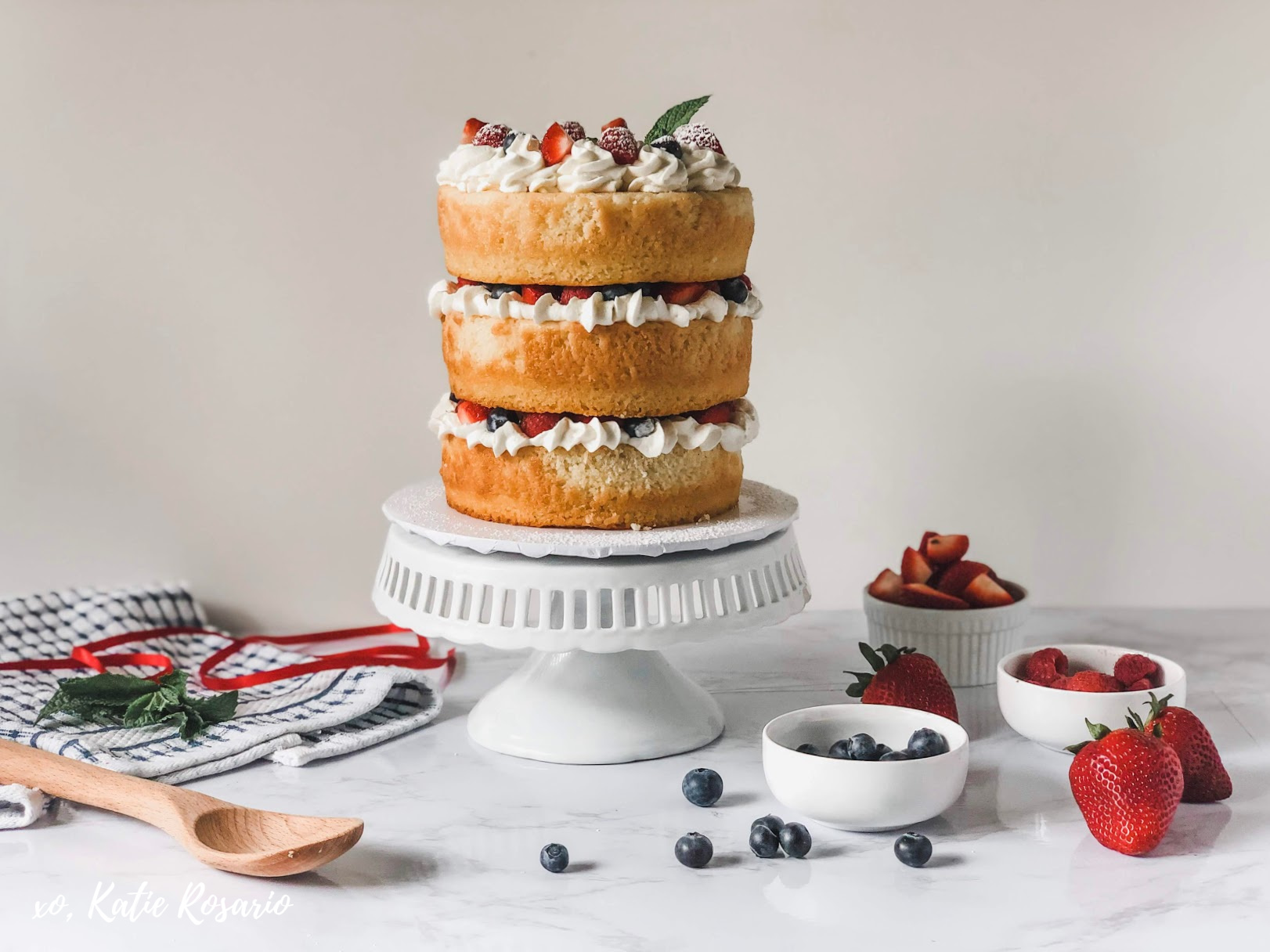 Does this Sound Familiar?...


You want to start baking and cake decorating, but you're not sure how.
Learning a new skill is hard. It's frustrating, and you can spend a lot of time and money doing the wrong things. Or you're stuck in the learning phase that you haven't done any baking or decorating yet. You're almost paralyzed by the info and don't want to mess it up!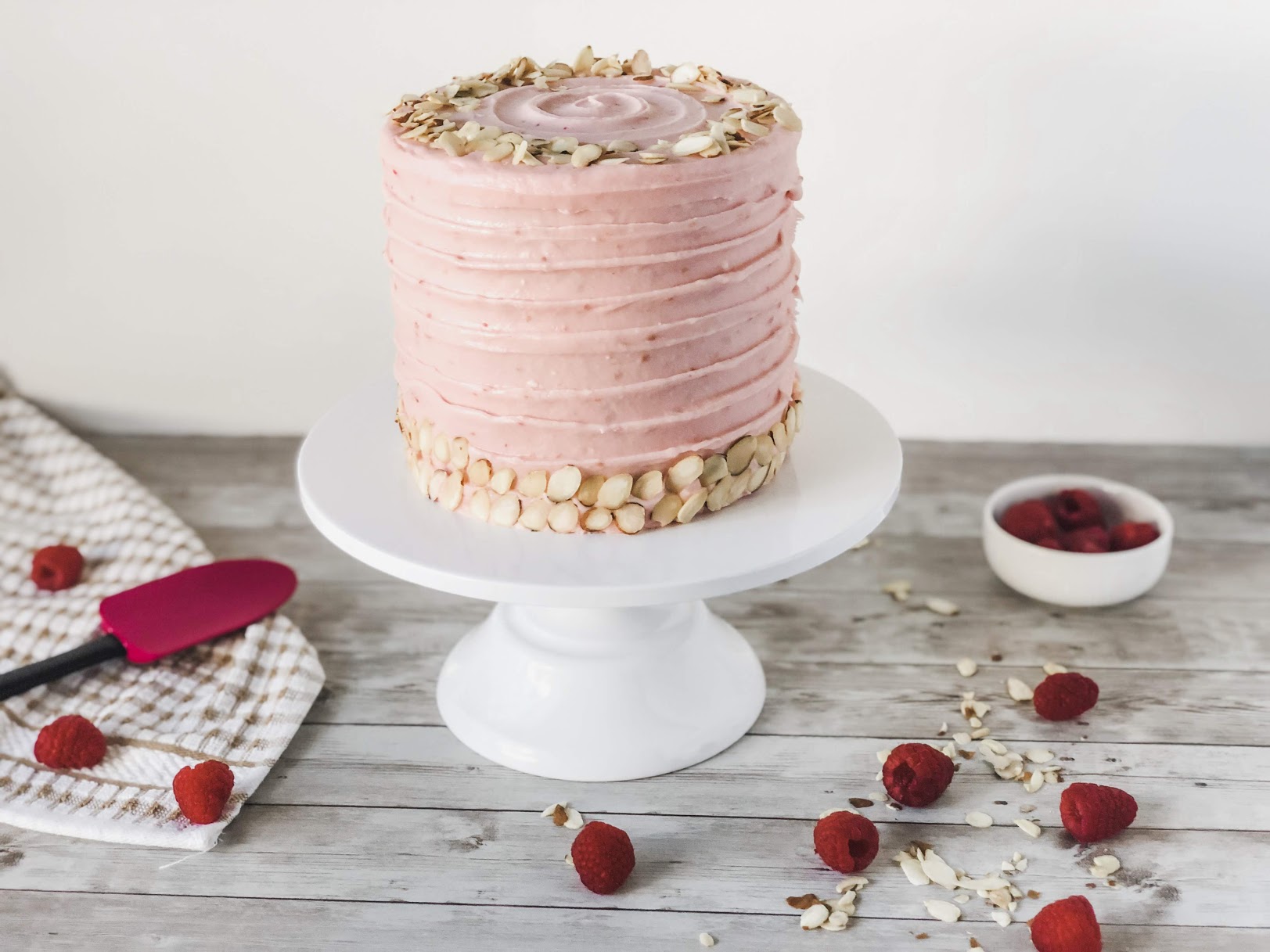 You're overwhelmed by the amount of baking information out there.
You're tired of reading blog posts about decorating cakes, and you want to take action with a program that works. There are so many blogs, shows, tutorials on how to decorate cakes that it's very overwhelming, and you don't know who to listen too. It feels distracting, or like you're wasting your time. You want to take it at your own place and trust that you'll learn something that actually works.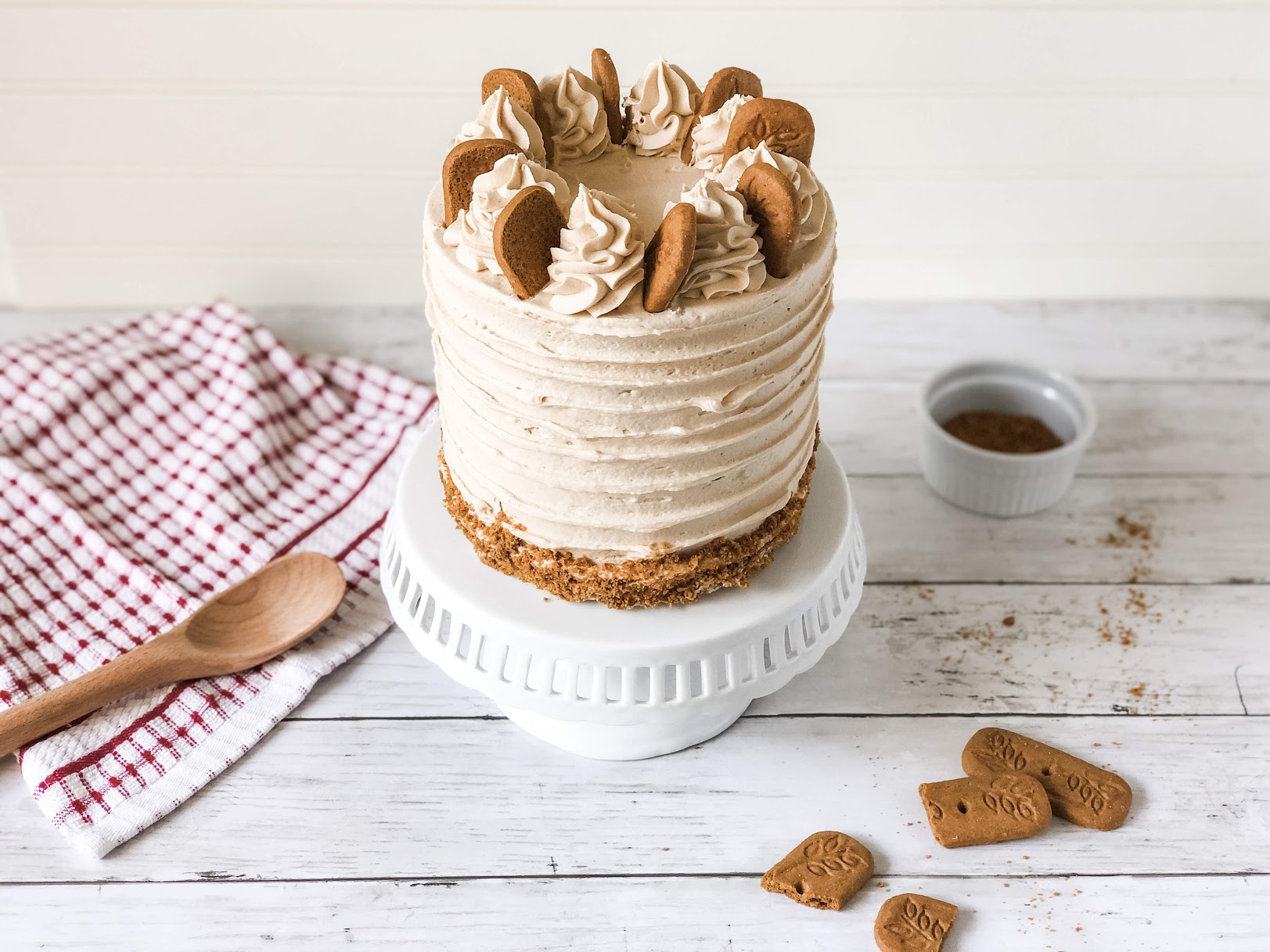 You wish there were a step by step tutorial for making fluffy cake layers, making buttercream that won't melt, and decorating cakes that will impress. 
You want to have reliable recipes to use again and again. The info is out there, but you don't have to time and money to test and research all those recipes to know if they are good enough. You want easy tutorials that are all in one place to follow along like a step by step class.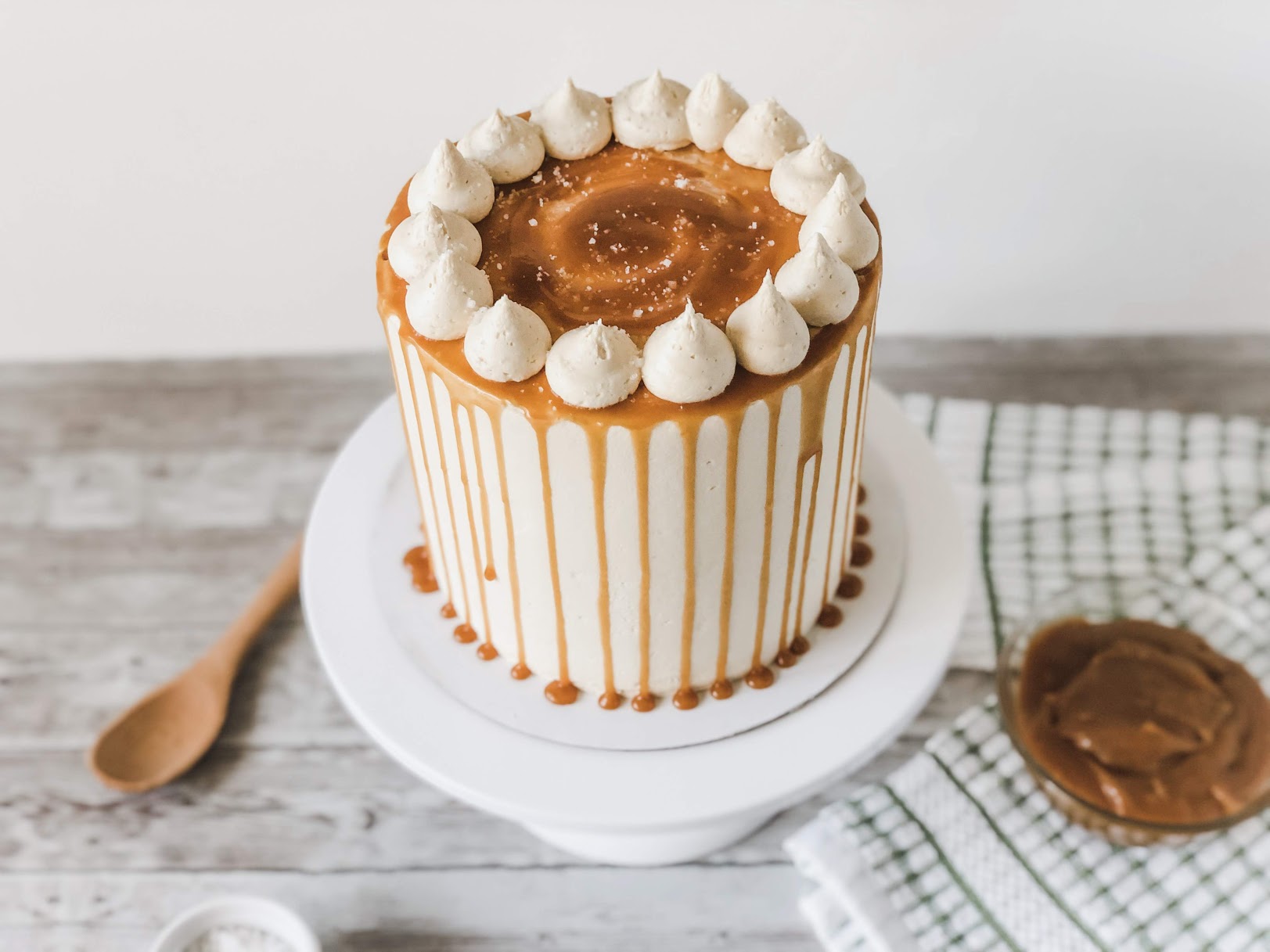 You've started to decorate cakes already, but you don't how to stay organized and get overwhelmed easily.
Being in the kitchen, you can easily forget to buy an ingredient, lose track of time, feel rushed, or miss a crucial step. It would help if you had a checklist or a guide to get you from the starting point to a beautiful completed cake.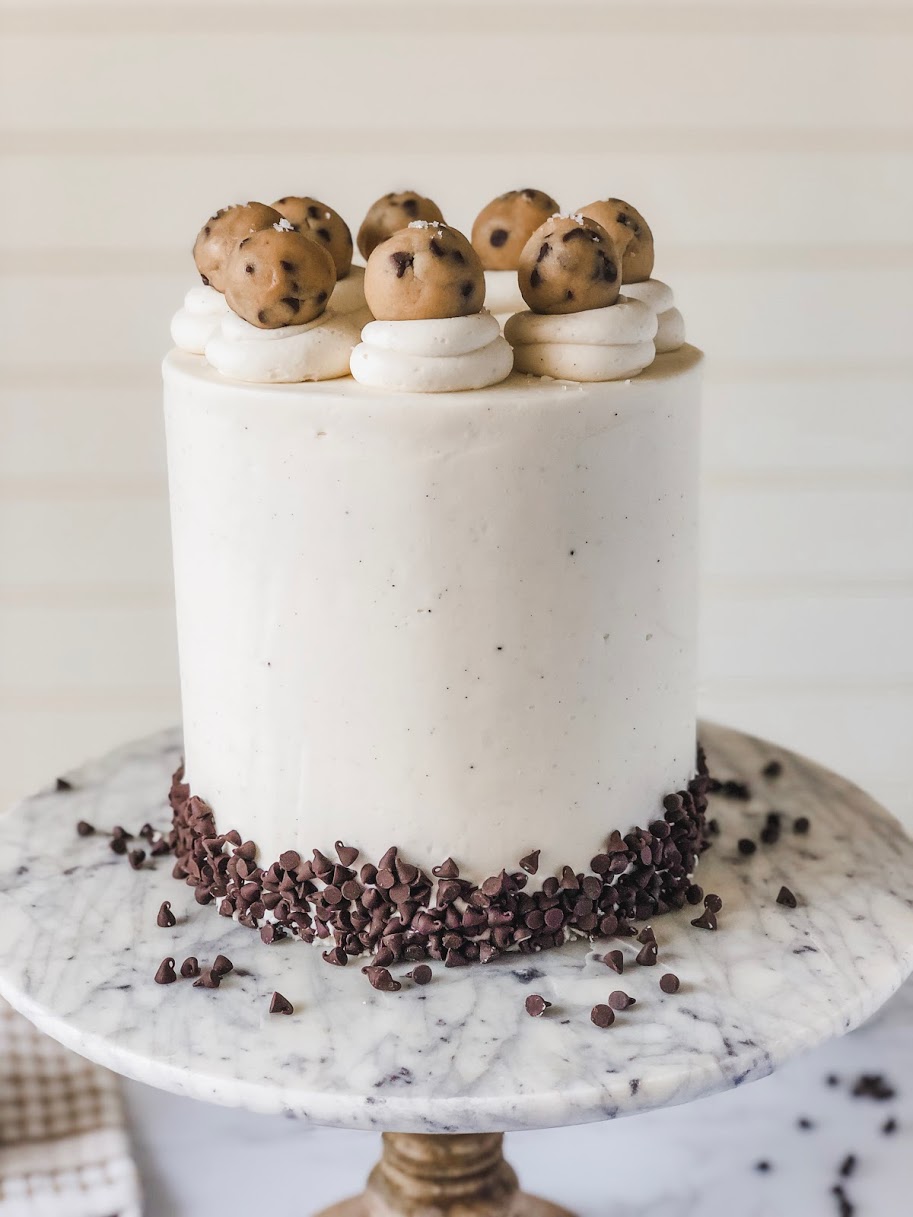 It might sound insane...
But I started in the exact same seat as you now.
I started 12 years ago with zero knowledge of baking and cake decorating but I was willing to try.
I read so many books, blog posts even took a ton of classes from a local cake shop that I was overwhelmed with information. 
My first cake wasn't pretty. It was a mound of yellow cake crumbs covered in chocolate buttercream and tons of sprinkles looking like a funny mountain but it sure was delicious. I just remember how amazing it felt creating a cake!
Then I went to culinary school and graduated with a degree in baking and pastries but I still wanted to learn more about cake decorating.
It wasn't until I discovered (after many hours of practicing) how to build and crumb coat my cakes the right way that I started to gain confidence in the kitchen.
Through learning these foundation techniques, you will become a better baker, release your decorating worries, learn from my mistakes and you'll be ready to take on any cake challenge!
It doesn't matter if you are brand new to baking or have dabbled in decorating cake before; this Cake Decorating for Beginners masterclass will help you.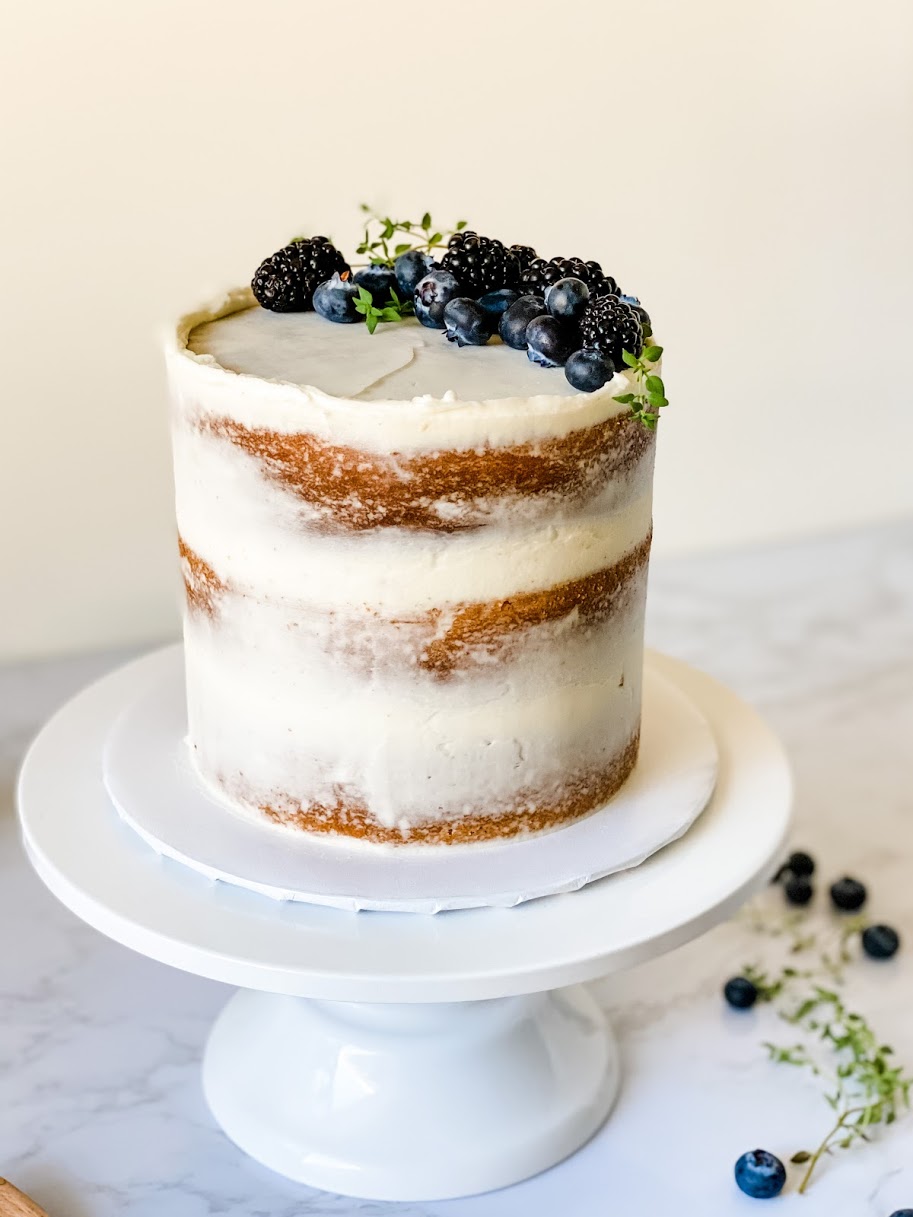 WHO'S THIS MASTERCLASS FOR?
Anyone Who is Brand New to Baking & Decorating
This masterclass is beginner baker focused, maybe you haven't learned how to bake a cake previously but really want to. It's also for anyone who wants to make cakes for their child's birthday party, holiday, work events or make cakes to celebrate a new milestone in a friend's life.
Anyone Who Wants to Learn How to Bake Cakes
I take you through step by step tutorials of the whole baking process. You'll learn how to prevent your cake from sticking to the pan, how to know when it's over baked, and how to make fluffy cakes every time. I'll not only show you how, but I'll give you the resources to make it happen in your own kitchen.
Anyone Who Wants to Master Decorating Cakes
You'll learn how to make velvety smooth buttercream and homemade fillings that taste incredible. You'll learn the importance of making your cake even so they don't fall over when you are stacking the cakes. You'll learn why crumb coating is so essential to having a crumb-free final coat. And you'll learn 9 decorating techniques to make impressive cakes.
I Know What You Must Be Thinking...
"I can just Google it and figure this out on my own, why do I need this class?"
You could do that and stay in that time-wasting and frustrating rut, or you can get step-by-step instructions from an expert who has been in your shoes that you can trust AND get a community to support you all along the way.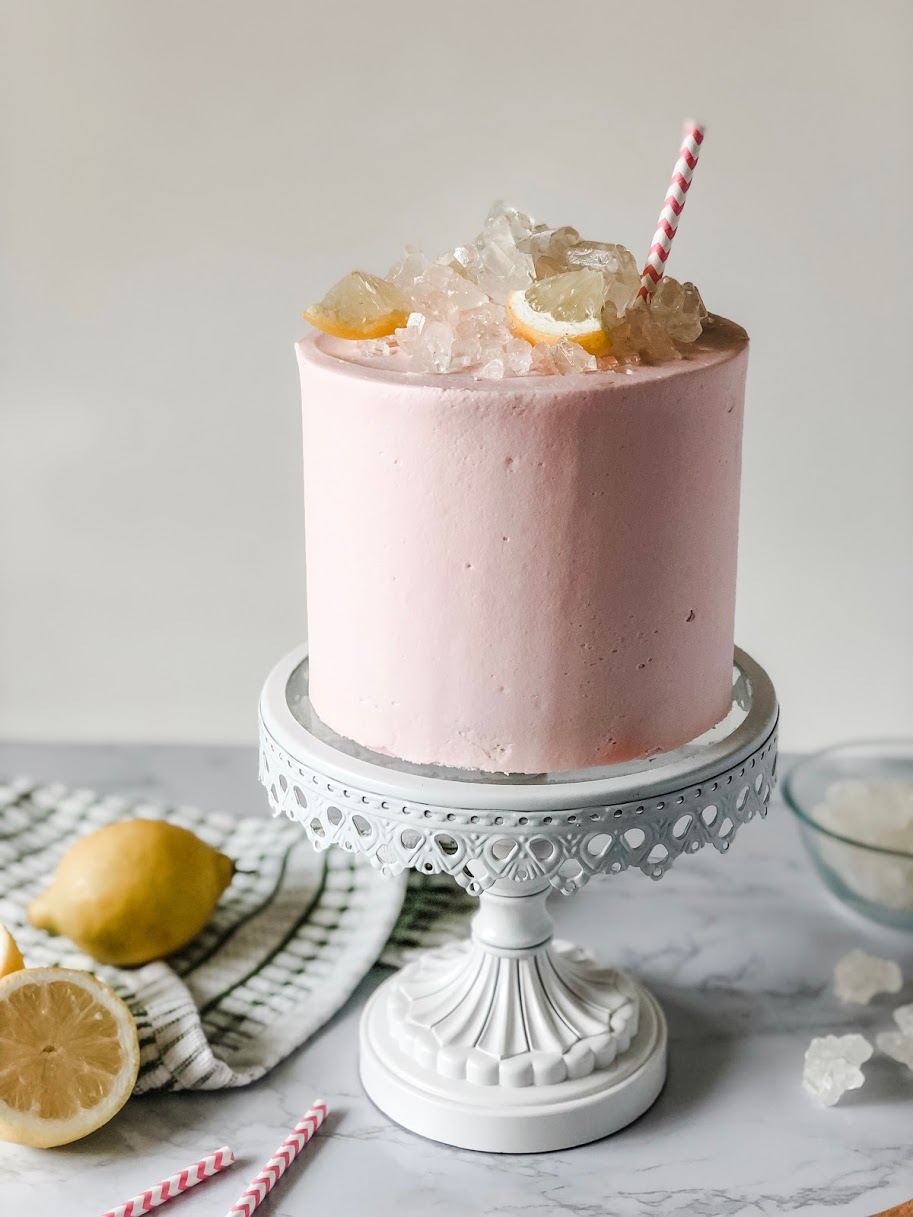 Here's How the Cake Decorating for Beginners Works...
You get an instant lifetime access to the masterclass.
You get self paced instruction, so you can decorate on your schedule.
You get 8 powerful modules that'll teach you the step by step process of creating bakery-worthy cakes.
You get over 30 foolproof cake, frosting & filling recipes that your family & friends will devour.
You get a cake book at the end of each module to save, print or take notes with to help you stay organized in the kitchen. (You can even save them to your phone or tablet).
You get regular course updates with new cake trends, tutorials and recipes.
You get front of the line email support with me. If you have a question you are the top priority when you enroll in the course.
When you complete the masterclass, you'll get a Certificate of Graduation because YOU DID IT!
If you want to start cake decorating from home, there is no better masterclass that will prepare you.
In Cake Decorating for Beginners, you'll learn how to decorate beautiful cakes that taste delicious, improve your baking skills and gain the confidence in the kitchen!
Here's A Look At What's Inside...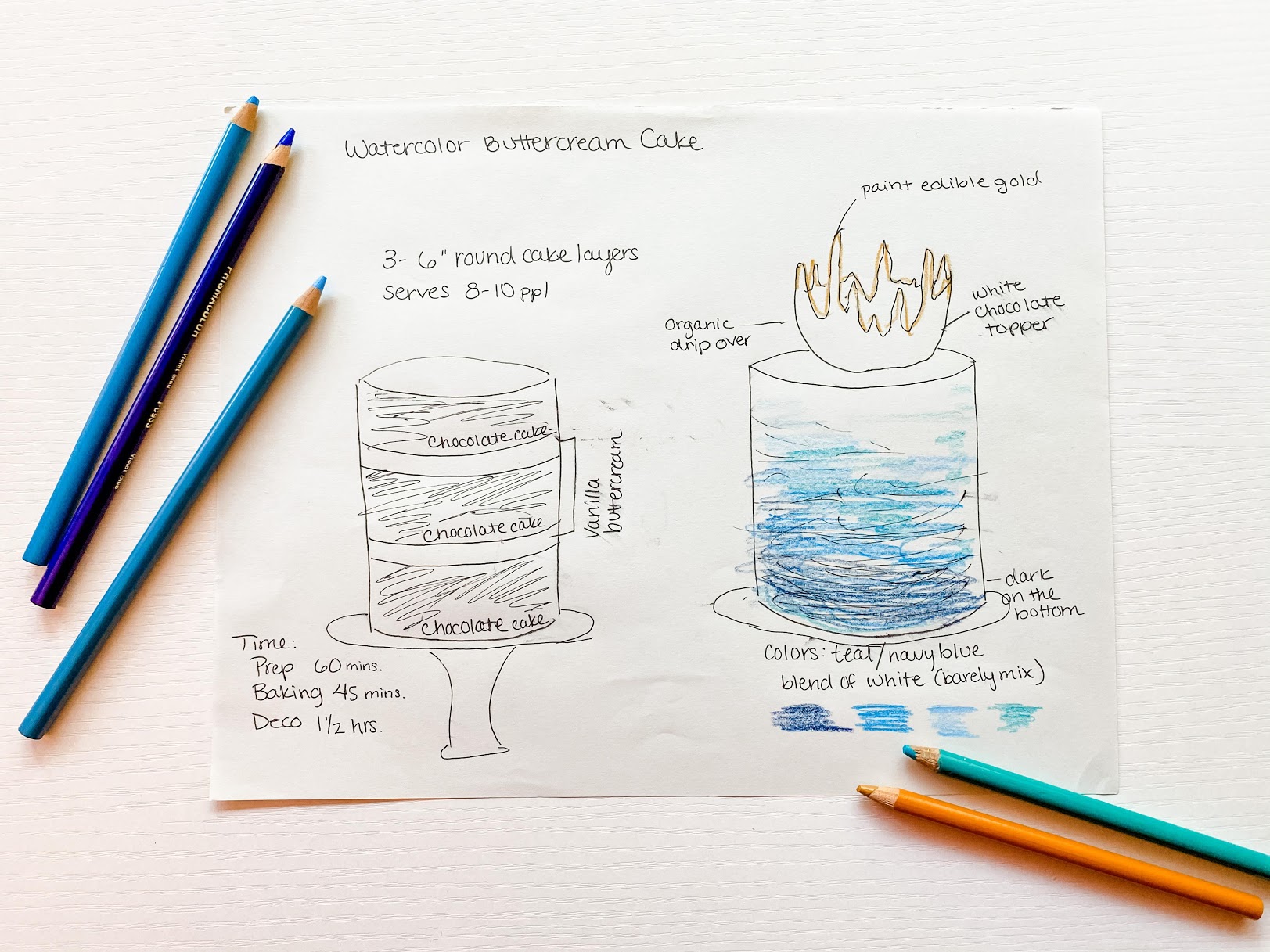 PART 1: PLANNING & PREPARING
In this first module, you'll learn how to plan and prepare. Through researching the cake design and style you can choose how much cake you need which will help you get a better idea as to how much time everything should take you. You'll learn how to plan out your cakes from recipe researching to buying ingredients, to pre-measuring your ingredients. This stage is often overlooked but when done correctly you'll get organized and become efficient.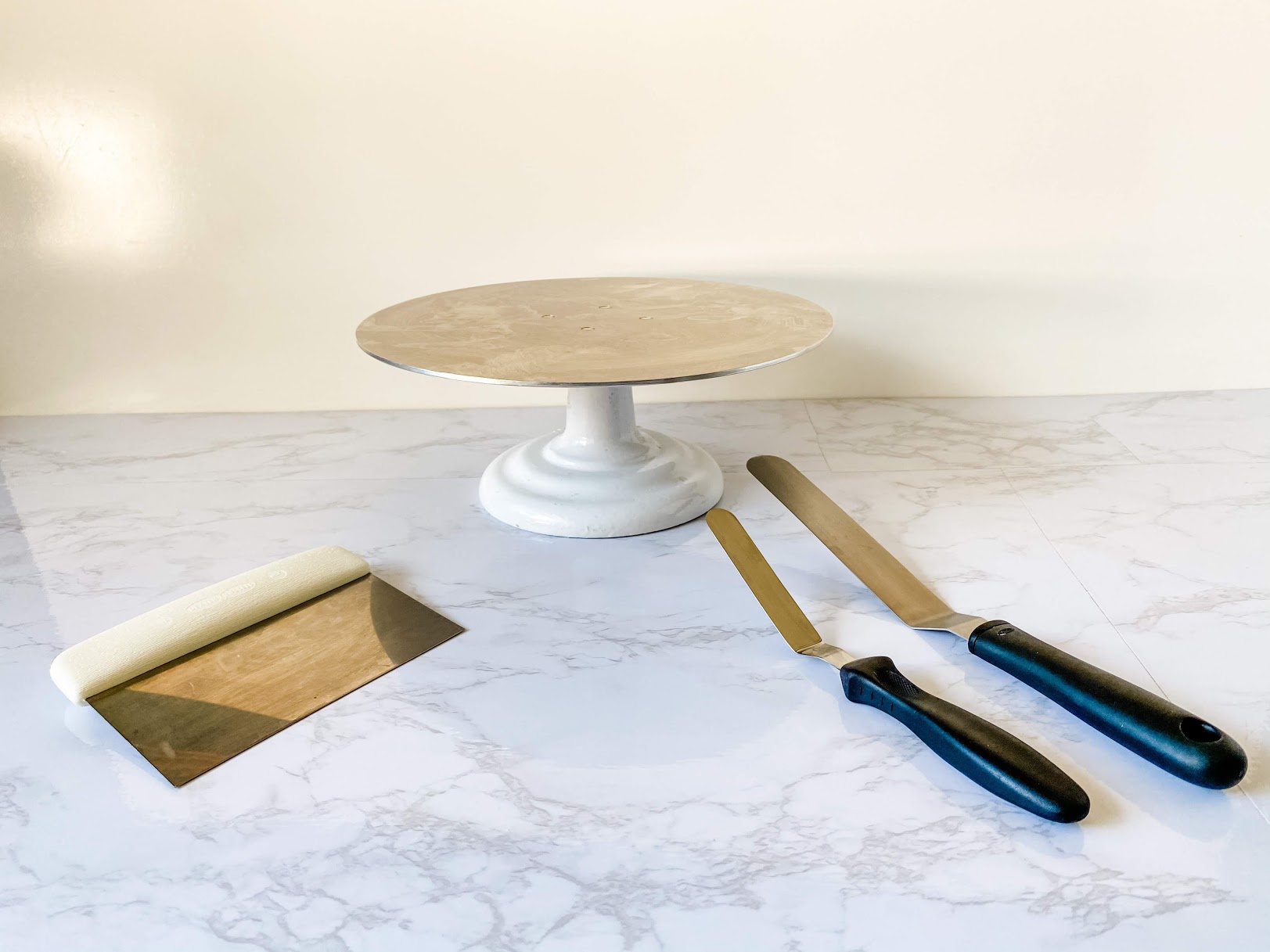 PART 2: ESSENTIAL TOOLS
In this second module, you'll learn about what must have tools you need. We'll also talk about why it's important to invest in high quality tools. How to use these essential tools for beginners. Think of yourself as a skilled craftsman and without the right tools the job becomes more difficult.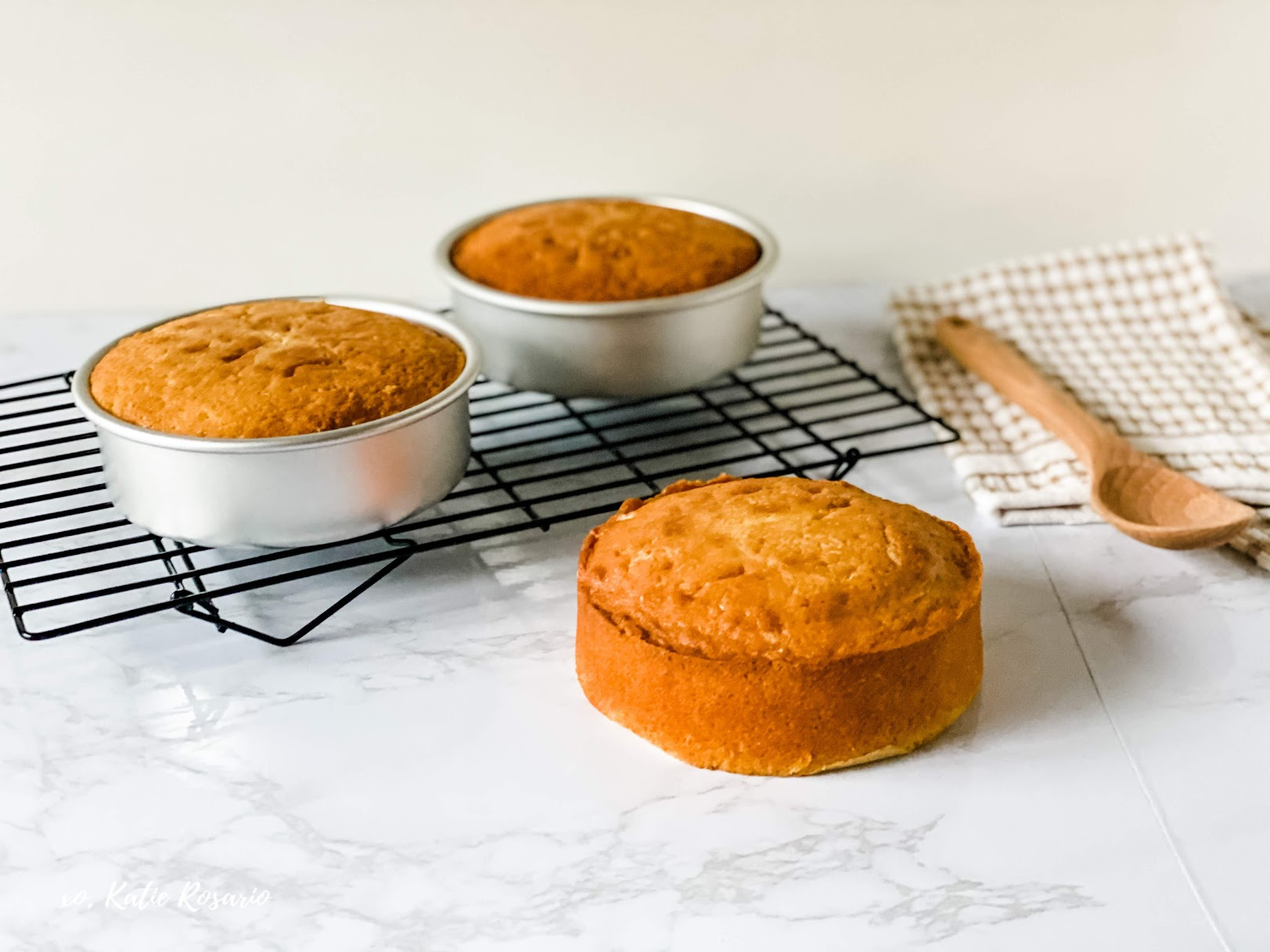 PART 3: CAKE BAKING 101
In this third module, we are talking all about cake. You'll learn about common baking mistakes and how to avoid them, along with cake basics to make light and fluffy cakes. Then we'll talk about how to prepare the cake layers before building.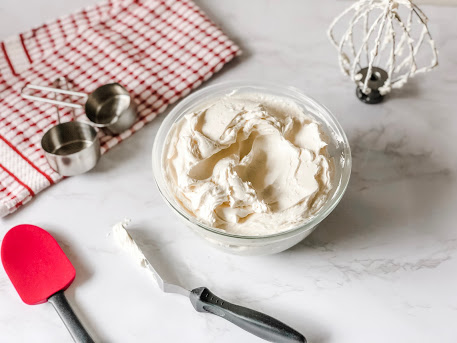 PART 4: FROSTING TIPS
In this fourth module, the focus is on frosting. Many courses don't focus enough time on frostings but this can make or break your cake. Here you'll learn the common types of frosting, common frosting mistakes, as well as frosting basics so you can make smooth buttercream everytime.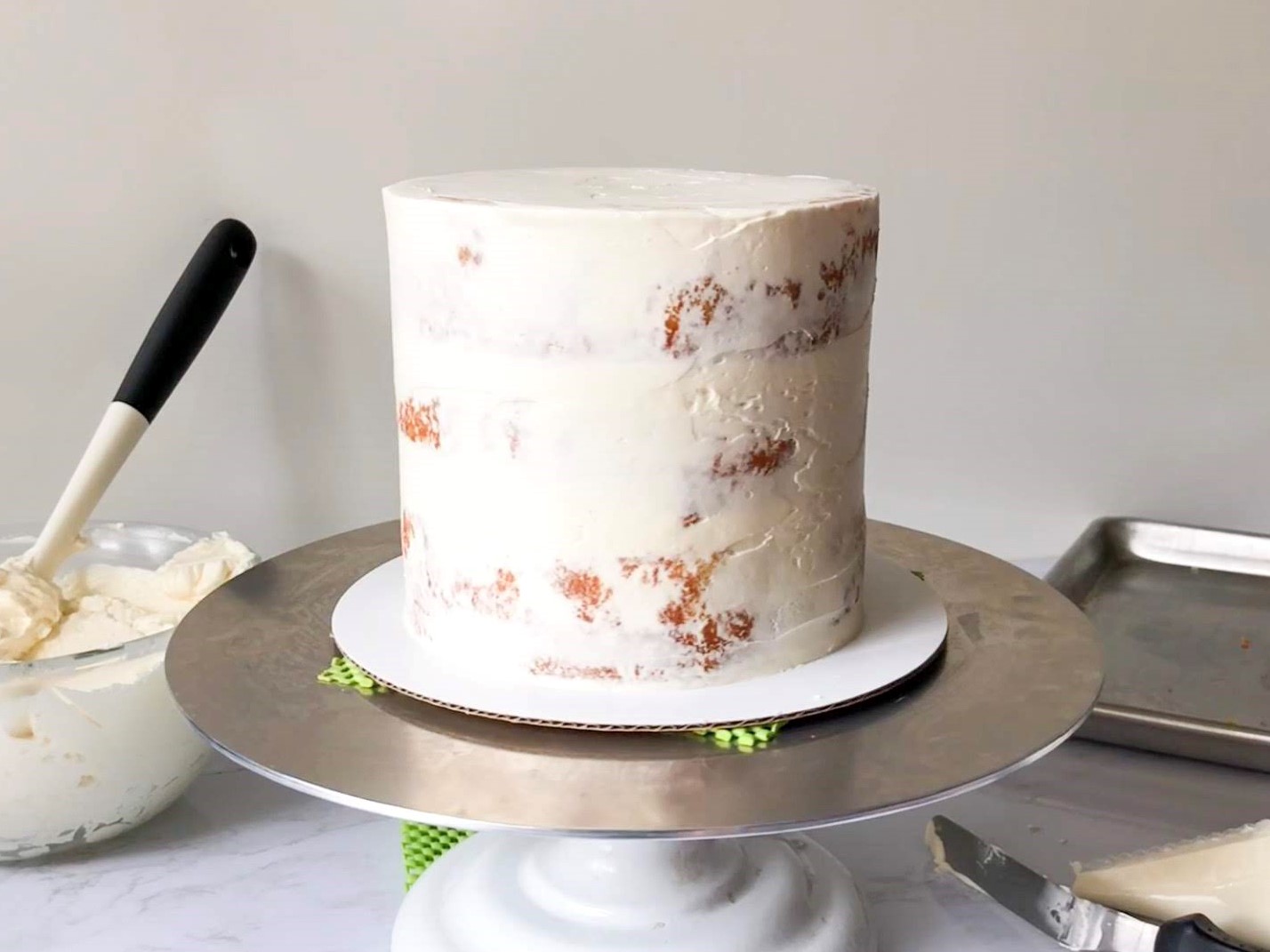 PART 5: BUILD & CRUMB COAT CAKES
In this fifth module, you'll take all the preparation and put in the work for a beautiful cake. You'll learn the foundation for filling, stacking and crumb coating cakes with buttercream and specialty fillings. With these steps, you'll build the foundation to master cake decorating.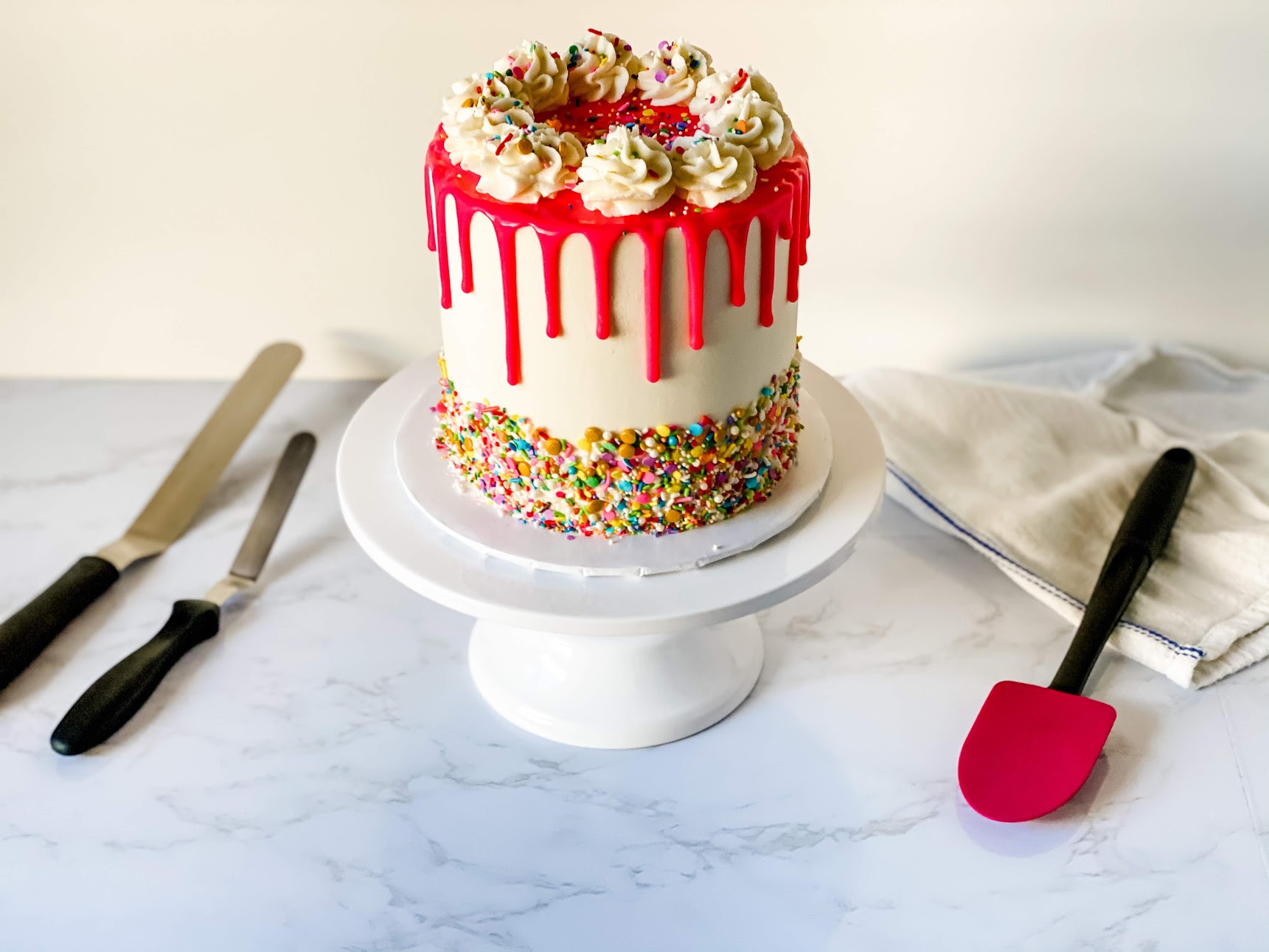 PART 6: CAKE DECORATING TECHNIQUES
In this sixth module, you'll learn simple cake decorating techniques that will help you make bakery worthy cakes. You'll learn how to make the sides of the cake smooth, star and round tip piping techniques, covering the sides in sprinkles, and drip cakes. Once you have mastered these cake decorating techniques you'll gain confidence and ready to tackle any cake creation.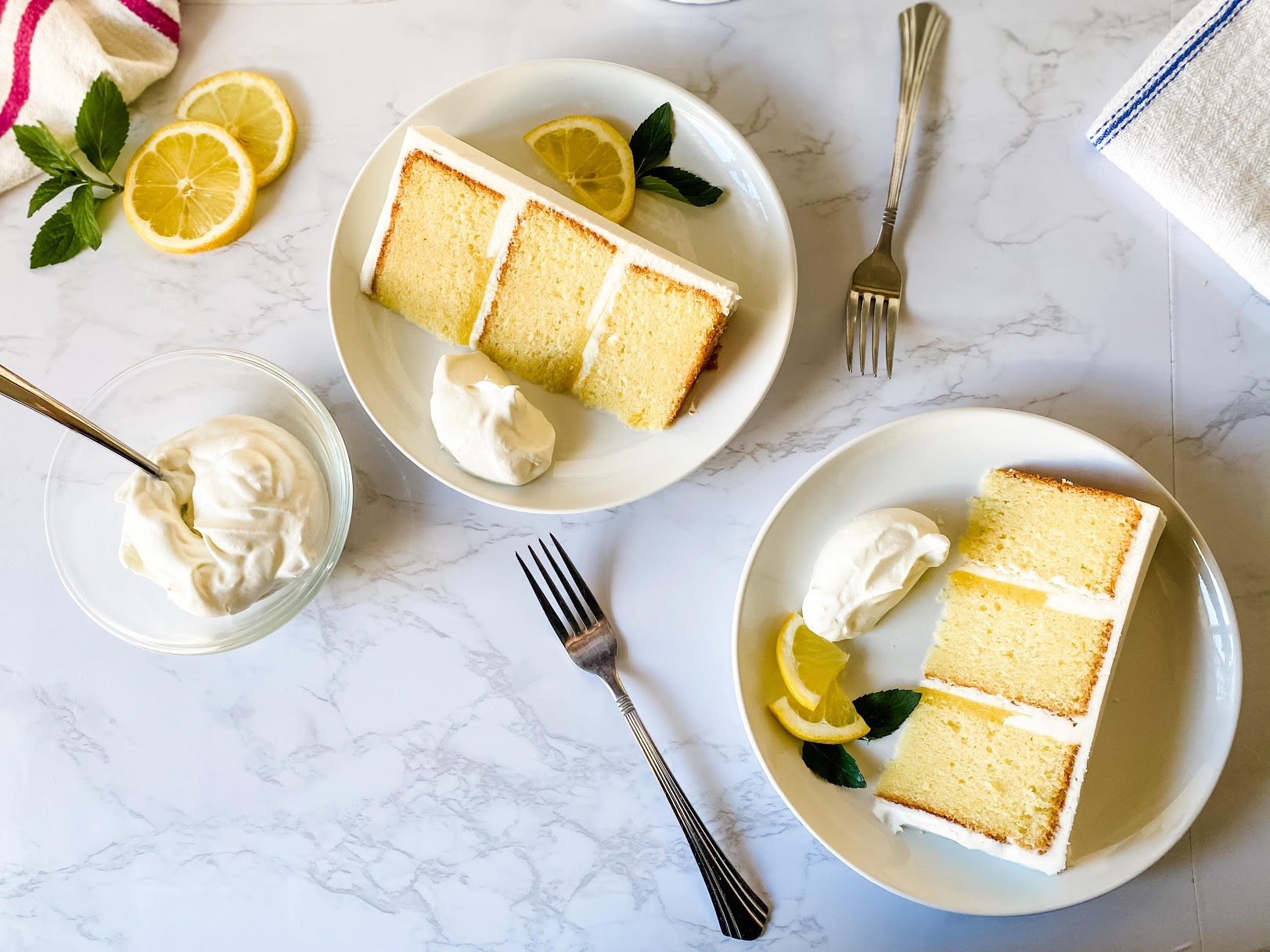 PART 7: HOW TO CUT & SERVE CAKES FOR ANY EVENT
In this seventh module, you'll learn the finishing touches of how to cut and serve the cake for any occasion. I'll show you how to plate the cake slices complete with whipped cream, ice cream or garnishes. This completes the cake experience that'll take it over the top.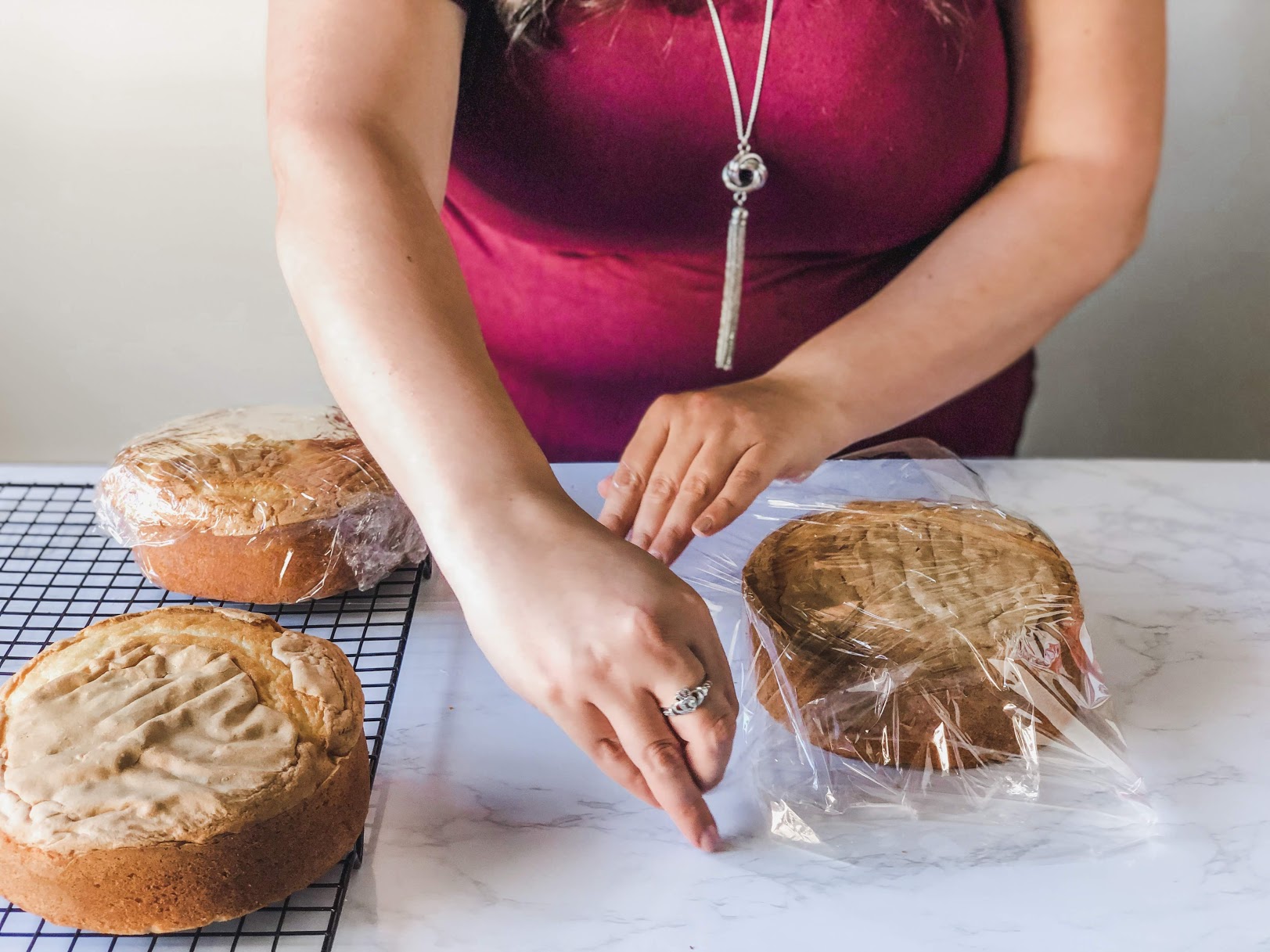 HOW TO STORE CAKE LAYES, BUTTERCREAMS, & DECORATED CAKES
You'll learn how to properly store the cake layers, fillings and frostings even fully decorated cakes for days if not weeks in advance to reduce overwhelm and stress.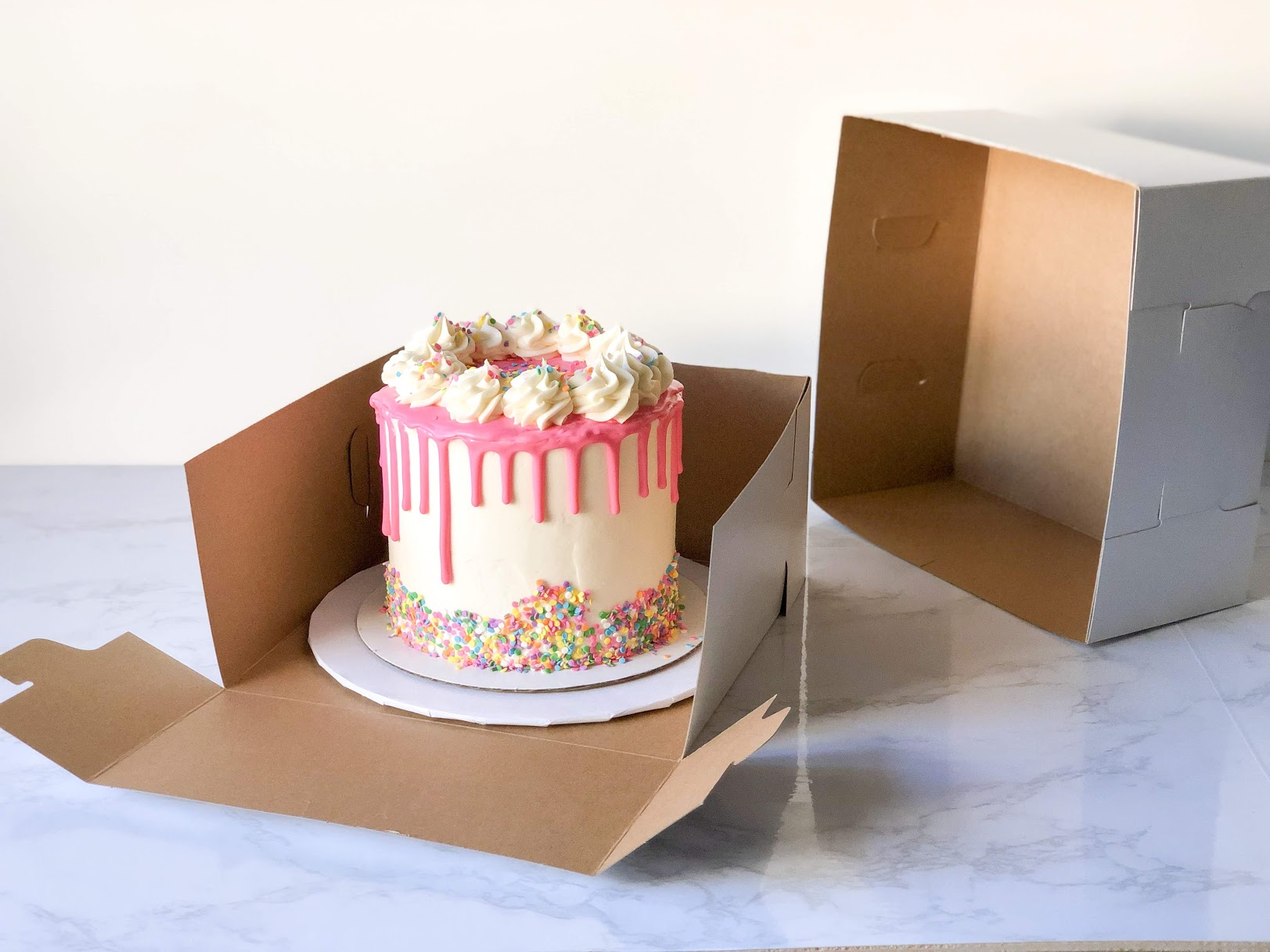 4 SECRETS TO TRANSPORTING CAKES
Finally, you'll learn the professional secrets of how to transport any cake in hot and humid weather so your cake will get there in one piece.
As a bonus, when you enroll you'll get exciting DECORATING SECRETS that you can't find anywhere
The top cake decorators use these tips and techniques to make amazing cake every time. It's guaranteed that you'll be a better baker and more confidence decorator after these bonuses!
Private Facebook Group Access
Gain access to our Private Facebook Group, where you can get feedback from other beginner cake decorators and have a space to make new cake community connections.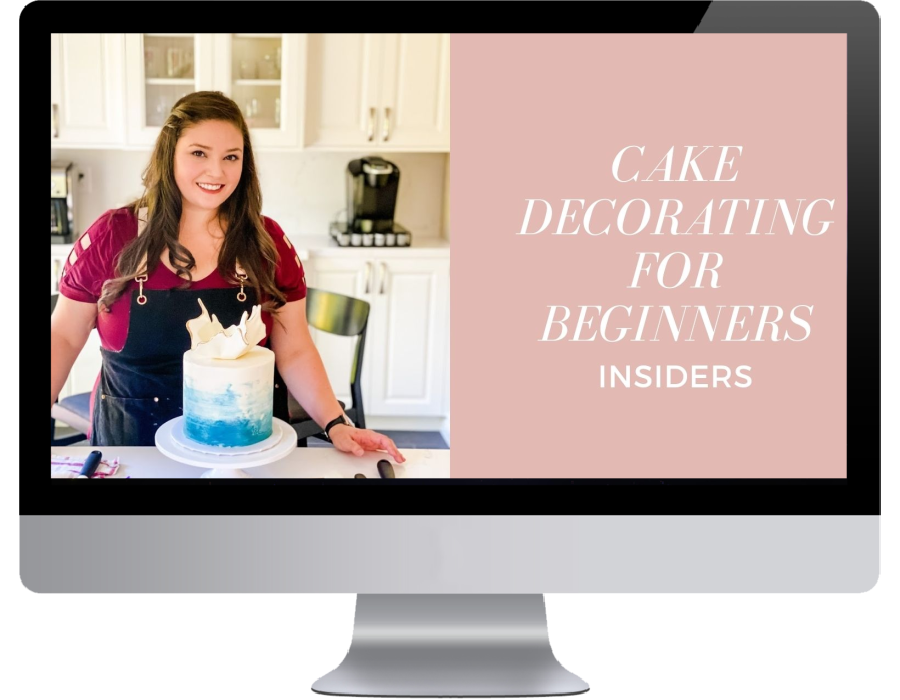 30 Foolproof Cake Recipes
You'll learn how to make cakes from scratch like vanilla, chocolate and lemon. As well as semi-homemade foolproof recipes like Classic Cakes, Fruit Cakes, Chocolate Lovers & Seasonal Favorites that are perfect for beginners.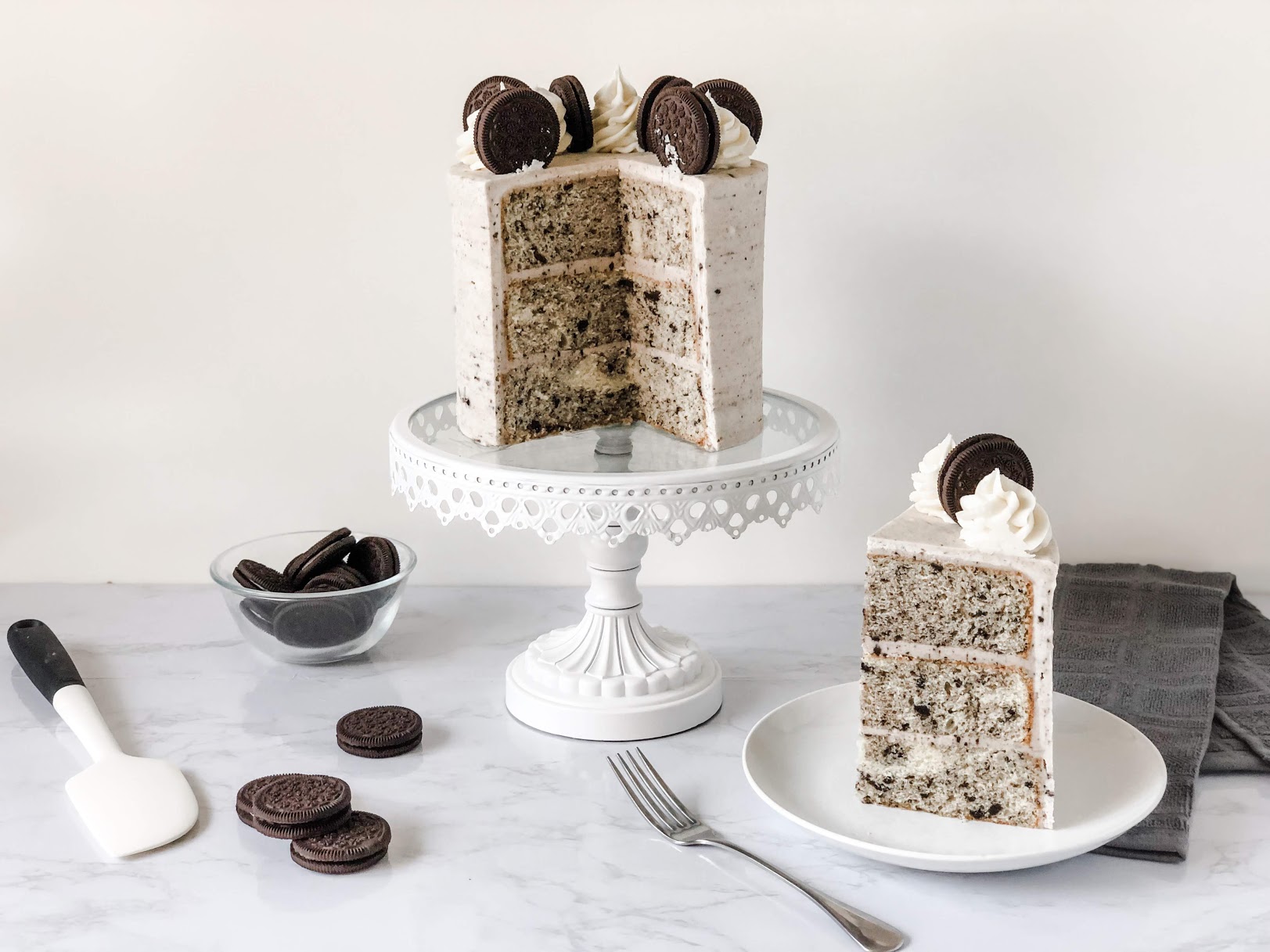 30 Frosting & Filling Recipes
You'll learn how to make frostings and filling recipes that are versatile and freaking delicious! You'll get the recipes like vanilla buttercream, chocolate ganache and cream cheese frosting with fillings like berry jam and a citrus curd.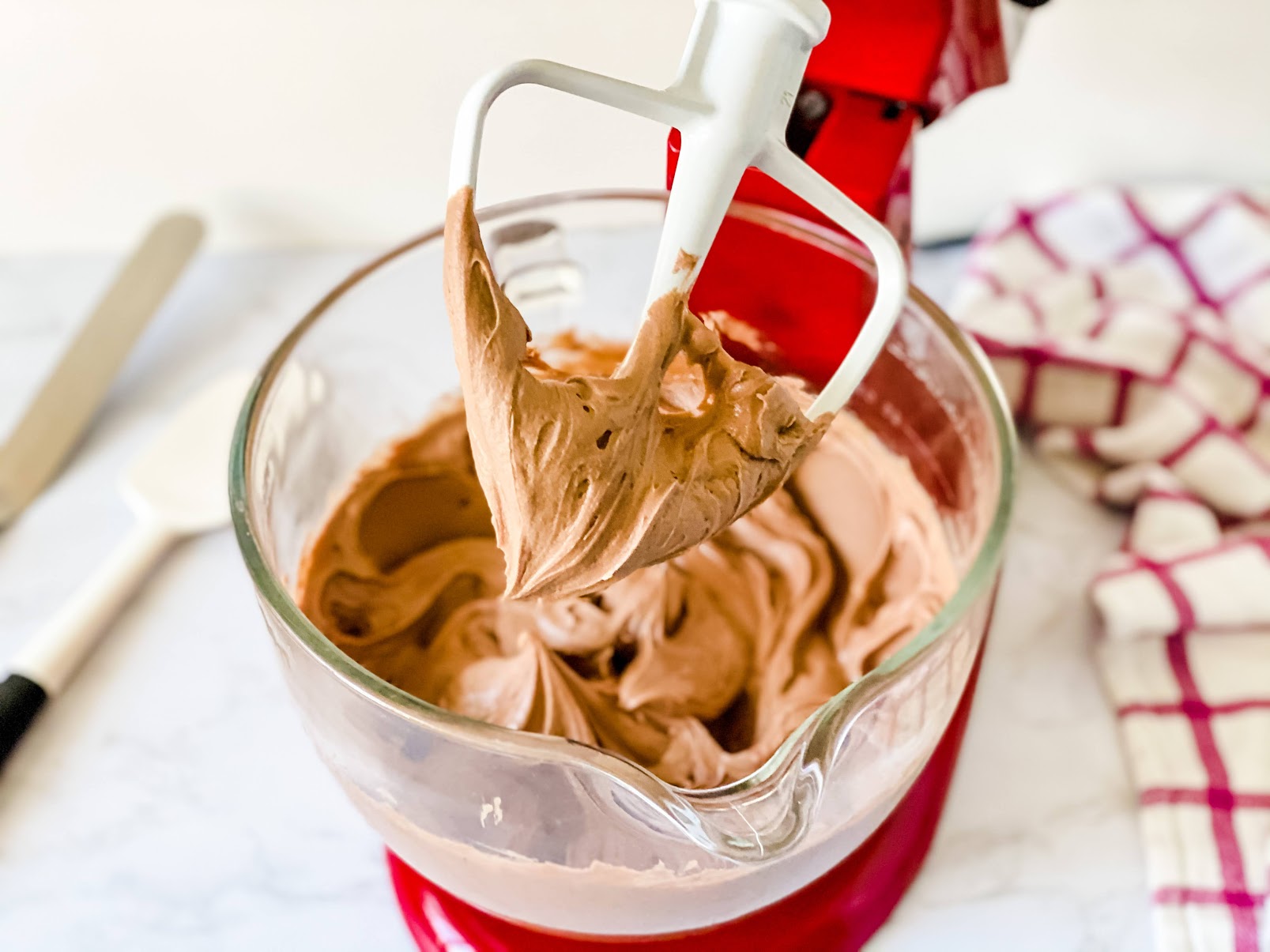 You'll learn how to create these simply stunning cake tutorials right next to me. Your friends and family will surely be impress with these beginner friendly tutorials like this Watercolor Buttercream Cake, Ombre cake and Berry Naked Cake that's perfect for intimate weddings.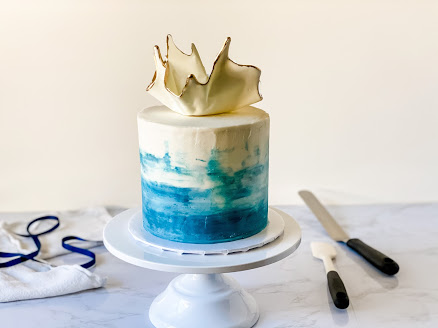 You'll learn how to turn over 30 cake recipes in delicious cupcakes. Then you'll learn elegant ways to decorate cupcakes like a pro so you can become a well rounded decorator.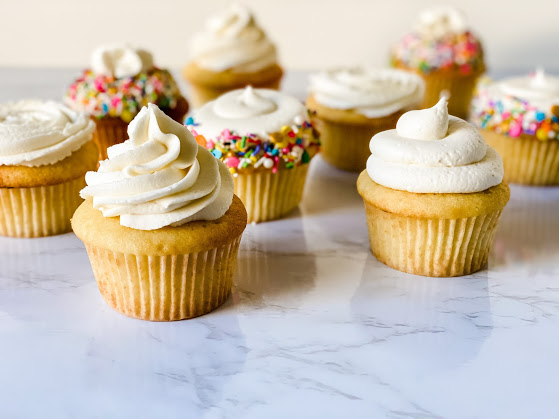 Here is a great lesson for you to learn how to make perfect cake pops from leftover cake crumbs. Don't know what to do with all those cake crumbs now you'll get a step by step guide to make cake pops that people will want to pay you.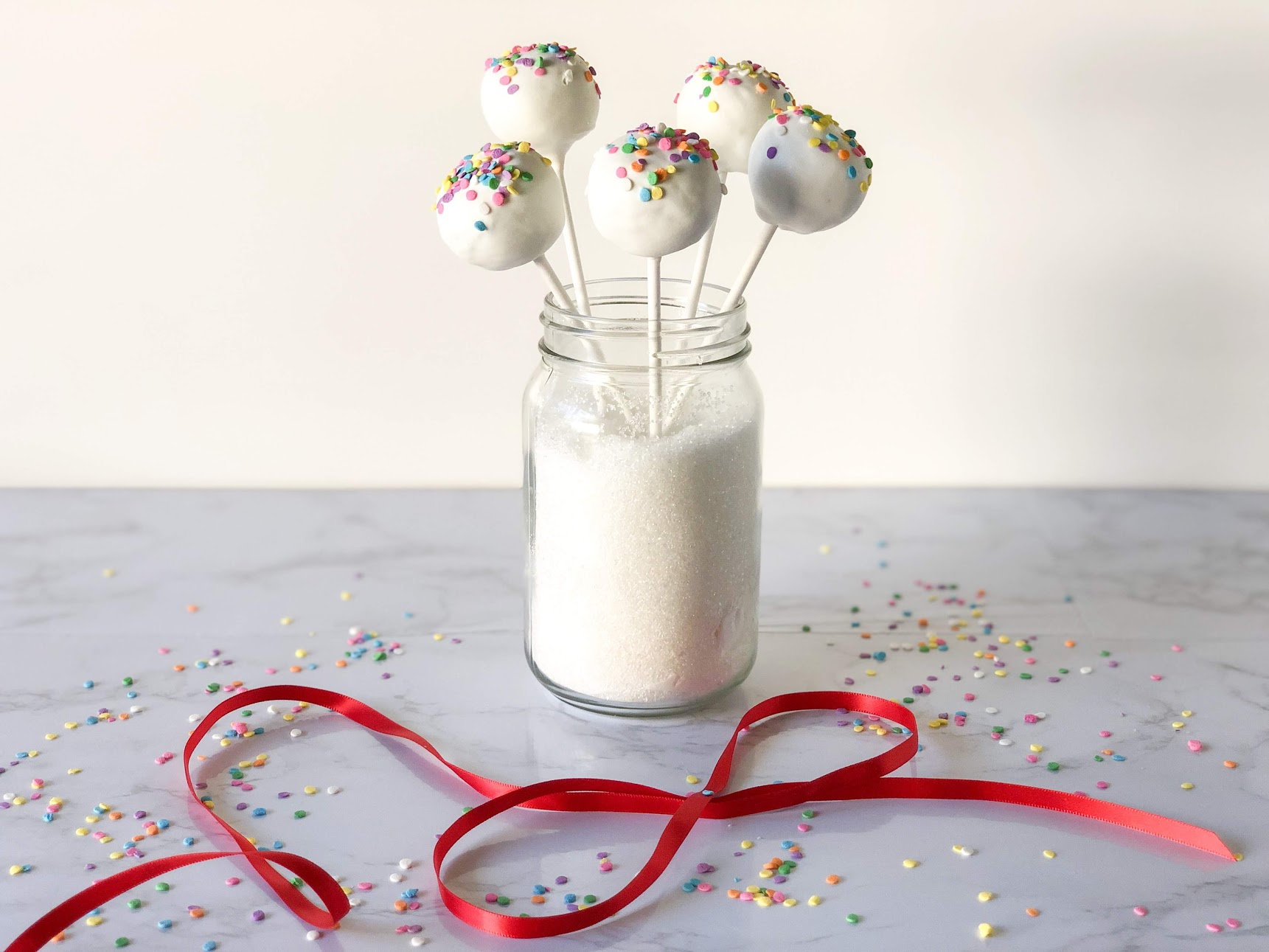 Here's the thing, the bonuses alone are worth the price of this course, they are an unbelievable value!
Some of these bonuses are things I learned after years of experience (I didn't even learn them in culinary school) and now you are getting them for FREE when you enroll!
Course Curriculum
HERE'S A SNEAK PEEK OF THE EXACT LESSONS


There are so many fantastic lessons packed into this masterclass that most decorators won't even think about sharing them. But you'll get ALL of them in this one easy to follow course!
What Some of My Students Are Saying...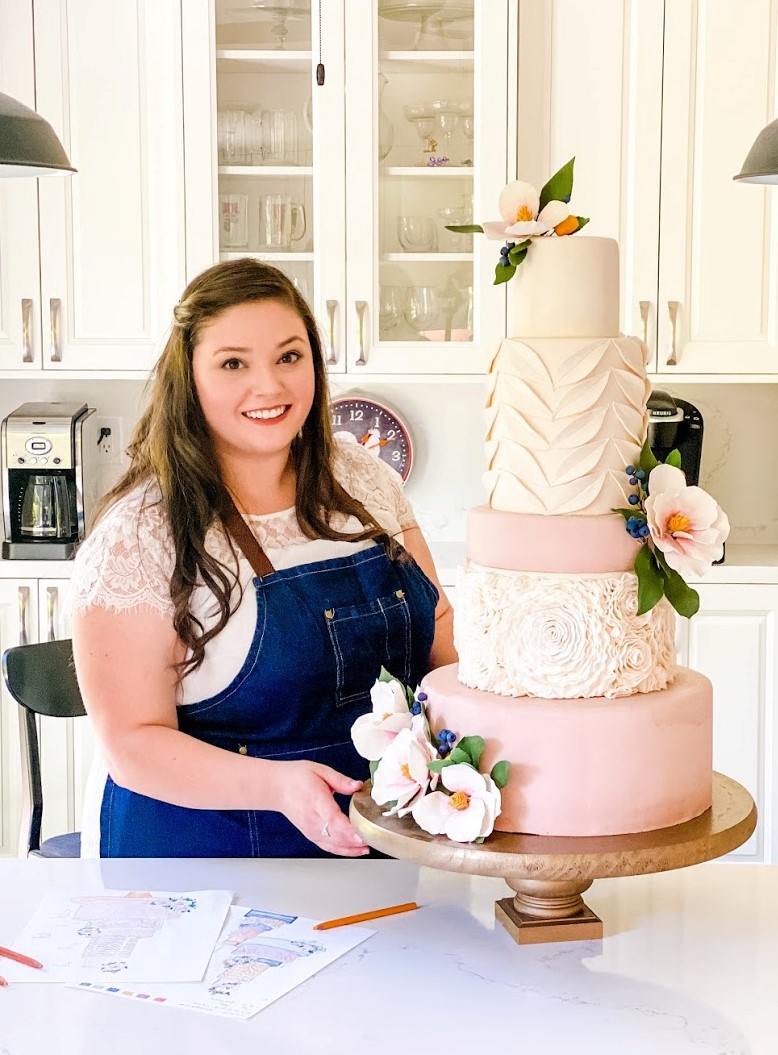 Hi, I'm Katie
After working in restaurants and bakeries that were unfulfilling, I started a home baking business so I could be the boss. This led to years of trial and error before getting clients to hire me for private events.  
When I started 12 years ago, I knew nothing about cake decorating. It took years to figure everything out. Now, I'm obsessed and humbled to say very successful at it. 
I created this masterclass to save you time and show you exactly what mistakes to avoid. I created a unique flow for teaching the successful way to help home bakers go from beginners to confident decorators. It's not taught anywhere else. 
I teach foundational baking and cake decorating techniques that will help my students become more confident so you can make any cake creation.
The kitchen is my happy place and I hope you will find the same joy in yours. I'll be your biggest supporter, your number one fan, and the baking mentor you've been looking for all along.
If you want to learn how to decorate cakes at home, then you're in the right place.
Love and Cake,
Katie
GOT QUESTIONS? I HAVE ANSWERS!
How is this masterclass offered?
Cake Decorating for Beginners masterclass is carefully crafted curriculum filled with easy to follow lessons including written and video tutorials. It's a self-paced program that you get lifetime access to so you can take your time and revisit the recipes and lessons as many times as you like. 
How is this masterclass different than other decorating courses?
This masterclass isn't another decorating course, this course focuses on the tools you'll need, the techniques and tutorials that will take you by the hand and walk you through fundamental baking and decorating tips.
​I know how to decorate - is this masterclass for me?​
It depends on your baking experience, if you feel that you need help and want to make improvements to basic baking techniques. Or if you want to improve your cake decorating skills that are bakery-worthy.
​​Is this masterclass really worth the price?
If you do the work in the course, it's worth triple what you pay for it. If you don't do the work, it's not worth $1.
Is this masterclass a one-time purchase or monthly subscription?
This class is only a one-time purchase plus tax and no hidden fees or monthly subscription.
Can I get a refund?
Yes! When you enroll with the full one-time payment you are eligible for a refund. I am so confident in this masterclass that if you take it and go through it, and you don't get results, simply email us, and we'll give you a 100% refund within 30 days of enrolling. (Note: For Payment Plans all sales are final).
I have another question. How can I ask it?
You can email me at [email protected] I'll be happy to help!